Miraflores Park Hotel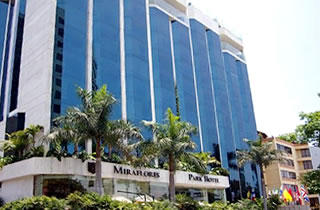 LIMA - PERU
Address: Miraflores - Av. Malecón de la Reserva 1035 Miraflores
Category: 5





DESCRIPTION
Located in the exclusive residential district of Miraflores, where history and tradition go hand in hand with the important cultural, commercial, entertainment and financial centres.

The hotel is surrounded by a park and has incredible ocean views.

Miraflores Park Hotel is located approximately 20 minutes from the International Airport of Lima, and approximately 15 minutes from the bus station.
SERVICES
HOTEL SERVICES:
Spacious closets
Sitting area equipped with the best in communications technology
Fax machine
Two phone lines
Dataport
Access to internet and personal computers upon request
As well as a splendid ocean view.
ROOM DESCRIPTION:
Our 81 suites are fully carpeted and well distributed, offering you the ideal space for work and rest.
Ample private bathrooms in marble and granite, comfortable king-size beds, air conditioning and heating system.
GALLERY OF PHOTOS